Skill Set: Experienced, with Advanced Cables
I've been slogging through loads of work this week, and spent all of yesterday at a football game (since I am now just two hours away from the dear
alma mater
), but I have still been finding time here and there to get a start on my newest gift project. Is it starting to look familiar?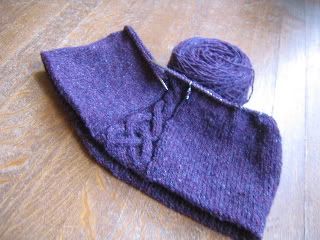 All I have to say about it so far is that I feel like a complete ass for not knitting one sooner. A, it's so much fun to knit, what with seeing what the cables will do next; B, the pattern is so clearly written; and C, with Shedir and the Pretzel Cable Socks under my belt, I can actually read the charts, rather than having to look up each symbol as I come across it. Hey--I
am
experienced with advanced cables! I'll be knitting myself one as well, I think--I have some Aurora 8 stashed away that would make a delightful version.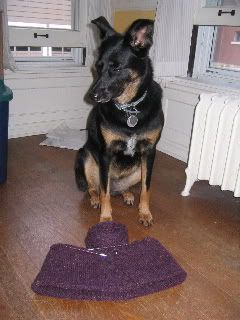 Bailey says:
"Compulsively lick your lovely sheepy knitting, with delicious lanolin and interesting bits of nature in it? I wouldn't dream of it."
Bailey is a liar.