Secret Gift Project, and a Rant
First, thank you all so very much for the nice comments on my sock...although I regret to say that nobody who commented was my pal. Faraway land, in this case, actually means somewhere in continental Europe, so abandon hope all ye Americans, Canadians, and UKers.
With the socks done, I'm now turning my fulltime attention to my SGP, which has a Priority Mail-induced deadline of September 24. Have you forgotten SGP? Here's a glimpse: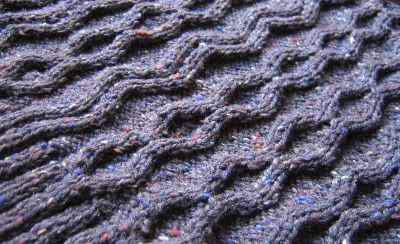 It's coming along pretty well, and I think I can be done before schedule, slow knitting and all. (You want evidence that I am a super-slow knitter?
Carolyn
is making the same project (with the same yarn even!), and emailed me the other day that it takes her about an hour to complete one of the diamond repeats, which is 12 rows. You know how long it takes me? 2 hours. I.e. twice as long. And that's on Addis, without a cable needle. I sincerely hope, Carolyn, that you are making a smaller size than I am.) But I will have to devote most, if not all, of my knitting time between now and then to it, which means not so much blog fodder. So I may be scarce for a while.
I did stop by my brand new LYS this afternoon to check out their wares. They're a little understocked, I think, and very heavy on the luxury brands, but I grabbed some sportweight merino in the perfect mossy green for Anna's Elfines, and I also got a Lantern Moon tote that I am going to donate to the
Give a Little
prize pot. You can see it below, with the yarn and a tired Weiner:
Which brings me to my rant. It is truly inspiring to see how much the knitblog community (which is only a a drop in the blog bucket, which is only a drop in the national bucket) has given to the Red Cross so far. But it also worries me, as it gives credence to one of the big administration talking points right now, which is that we should all be excited and proud at how well the American people are coming together to support each other. Please: don't be fooled by this rhetoric. Look past it and see it for what it is: an attempt to deflect criticism of the administration's (at best) wildly mismanaged or (at worst) deliberately callous response to Katrina. Amanda Marcotte, at
Pandagon
, has an excellent
explication
of this attempt at wiggling out of blame.
And, similarly, don't be fooled by the claim that this is "just" a humanitarian crisis. It is a political crisis. It is a crisis that highlights exactly how racist and classist our current administration is, and how much its foreign policy is directly compromising domestic safety (and don't get me STARTED on terrorism et al).
Daily Kos has chronicled numerous instances of officials actually
turning away
aid. So has
Lauren
, whose friend Chris has
firsthand knowledge
of it.
We should all be sick and sad at the devastation wrought by Katrina, but we should be horrified and outraged at BushCo's response to it. If this doesn't make us all activists, I don't know what can.
If you only have knitting blogs on your Bloglines, here are some you should add:
Pandagon
Daily Kos
Atrios
Talking Points Memo