Done ahead of time!
A full 12 days before the mailing date, no less--I won't even have to send it priority! (I am a notorious late sender of all presents, not just hand-knit ones.) Here's a mysteriously blurry glimpse; the whole thing will make its debut in a couple of weeks.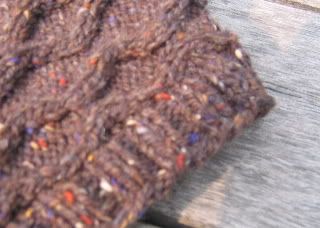 That ribbing made my hands cry, by the way. I know I promised to work only on the SGP until it was done, but I had to keep stopping and working on Cozy instead, just so I wouldn't get tendonitis. I'm almost done with Cozy too; I'm in the last ball of yarn, so I should finish that up soon--which means it is time to start something new! So last night I swatched, dutifully: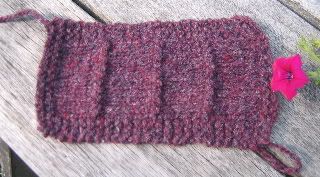 From right to left: 8s, 7s, 6s, 5s. Shooting for 4.5 stitches and 6 rows per inch. On the 8s, I got 3.5 stitches and 5 rows per inch. On the 7s 4 stitches, 5 rows. On the 6s, 4 stitches, 6 rows. On the 5s? 4 stitches, 6 rows. WTF? How can I have absolutely no change in stitch gauge, and barely any in row gauge between a 7 and a 5? (Yes yes, that 1 stitch will add up, I know.) HATE YOU GAUGE. I refuse to go down to a 4; I just refuse. What I am going to do is some maths to see if I can knit a smaller size in the bigger gauge. Hopefully that will work out.
What's the project? Wait and see, my pretties, wait and see. As a hint, I will say that the yarn is
Bartlett's Rangeley 2-ply
in Blackberry (so pretty! scratchy, but pretty), and that I am scared but so excited to start this sweater!