Can I get a hell yeah?
The hood of the Rogue, she is successfully grafted.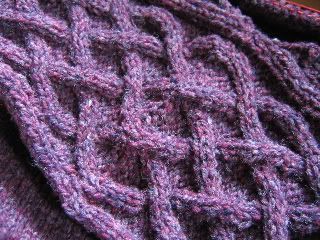 I would be lying if I said that I had not been fearing this step, but you know what this sweater is teaching me? That if I stop working myself up about things that seem too hard, I can do them perfectly well. This, actually, is one of the things that blogging is not good for--if there is a collective internet freakout (shall we call it an anxiety meme?) about, say, grafting the hood of Rogue, then I think it is somewhat natural for me to also freak out. But there is no need. My tension is a teeny bit wonky in some places, but overall it looks great, if I do say so.
Of course blogging is also good for many things, one of which is seeing how other people dealt with their Rogue-hood-grafting anxieties, and luckily, Lauren kept
excellent notes
which reassured me a) that the offset stitch at the stockinette/reverse stockinette transitions is inevitable, and b) that I was Kitchenering the rev st st sections the proper way, which is to reverse the directions for st st Kitchener (i.e. if it says "as if to purl," work as if to knit, and vice versa).
Can we take a moment, by the way, to marvel at Kitchener stitch? I don't do it very often, since my socks are toe-up usually, and I like mattress stitch at the shoulders of sweaters for stability, but it is really an amazing thing. Kind of a pain in the ass to do, but an amazing thing.