All right, already.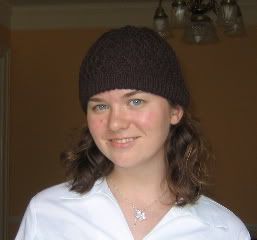 Look, Ma--I can smile nicely
and
shower!
Glad I took this second round of photos, though, because I caught a goof in Shedir. Can you spot it?
Another goof, that is--the one I knew about and chose to ignore is in the brim, and the new one is in the hat proper. Still, three days, two goofs, one Shedir--I can live with that.
Project wrapup, since I was too perturbed by the not-smiling yesterday to do a proper one:
Pattern
: Shedir, by Jenna Wilson
Yarn
: Rowan Calmer in Coffee Bean. I said 1.5 balls yesterday, but I think if it was over 1 ball, it was barely. It's hard to say since this was a stashbusting project--I was using up leftovers from the
Regency Shrug
. Should've weighed them. Didn't. (Edited: Weigh the
hat
, Dumbass McDumberson. 60 grams, or 1.2 balls of Calmer)
Needles
Size 3 bamboo circs for body of hat and DPNs for top.
Mods
: Added 10 brim rows plus a turning row; completed only 2 repeats of the initial cabling.
(Edited once more for future ref: this was a mistake. Should've done 3 reps so as not to be continually tugging the hat down around my ears.)Dates
: Started 9/30/05, completed 10/2/05
Notes
: I love this project. I felt so accomplished when I finished my first one, and all the more so now, since it was so much easier this time around. (
Post-its
? We don't need no stinkin' post-its.) I will make it again and again, and will hoard Calmer so I can contine to make it forever. Such a great gift, either as a chemo cap or a cap cap, and the Calmer makes it the perfect transitional hat for fall.
Those of you tuning in for Bailey updates, be advised that my wicked, ungrateful animal cost me further hundreds of dollars this week by actually chewing off her bandage and gnawing out her stitches (GNAWING OUT HER STITCHES! What kind of insane animal does that?), which required more anaesthesia and more surgery and more followup visits. In punishment for her wickedness, she is also decked out in a new hat.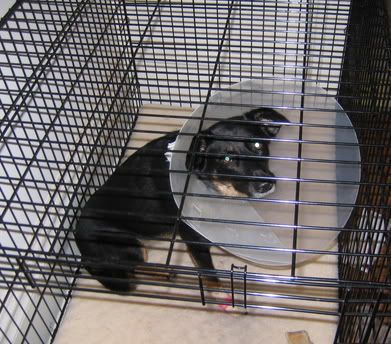 HA! It's like she's in the stocks! Those Puritans knew what it was all about, man--public humiliation and the inability to scratch your nose if you need to. That'll teach her.