Slobbery Kisses
That is what Bailey sends to all of you to thank you for all the virtual love. She is doing fine now, and putting some weight on the paw (more than I'd like her to actually; I'm not sure she knows her own limits). We had a followup visit at the vet yesterday, during which she was rebandaged in stylish pink, and she has learned to put the padded club that is her right paw to excellent use as a rawhide holder: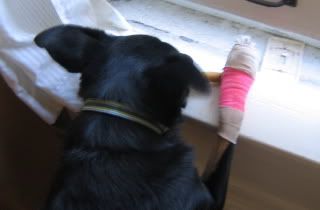 Because if you're Bailey, it's all about how best to cram your face full of the cured skin of a cow.
In knitting news, I am about 28 rows into the first hood chart of Rogue, and I think it's looking pretty good:
The body absolutely flew compared to the hood though, so I think I'm going to knit the sleeves in the round. I've decided I'm not a slow
knitter
, I'm a slow
purler
. Why is that? It's basically the same motion. Maybe I should learn continental. Anyhoo, I don't have an immediate deadline for this Rogue, but I'd like to get it finished as quickly as possible so that I can start mine! (Or some other sweater for me.) Because people? It's fall.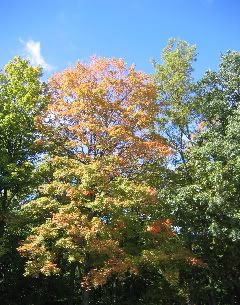 Mmmmmmm. Fall.