This also just in: Treats from my pal!
While I was still basking in the excitement of my new socks and assorted treats yesterday, the dorbell rang again--and it was so thundery that Bailey did not even crawl out from under the bed to confront her perpeual nemesis, UPS Man. Lucky thing too, because then he might have taken away my package, which contained even more treats--this time from my secret pal: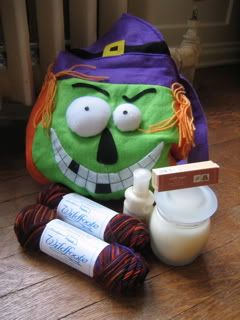 There's a fun Halloween bag, which I will be using to hand out the candy next month (and by "hand out" I mean "buy lots and eat it all myself"), hand lotion, lip balm and a candle in Warm Vanilla Sugar, one of my favorite smells, and some gorgeous fall sock yarn. See how fall-appropriate it is?
I'm thinking this might be just the thing for some dad socks. Hmm.
Thanks pal! You made my day twice over!
A final note, to be filed under "Things That Are Annoying About Moving": I have no matches. I know I had matches at my old house in Austin, but now I have none. Where did they go? And how am I supposed to light candles? Dammit.