And this is why, in real life, people sometimes perceive me as unfriendly.
In this picture?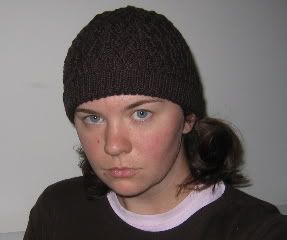 I was making a
conscious effort
to smile. And yet all I have on is bitchface. Sigh.
Oh. I also have on my new Shedir, made of 1.5 balls of Rowan Calmer in Coffee Bean. I doubled the 1x1 ribbing at the bottom and threw in a turning row to make it less chemo cap and more watch cap. I like it quite a bit. As you can tell from how much I'm smiling.