SnowWatch 2005
The weather.com? It displays this icon for my Monday forecast:

Can you see? It is petite, I know. But it is an image of a cloud with SNOW falling out of it. SNOW. In October. I mentioned this to one of my colleagues and she said "oh, I know--it's so late this year." GAH!
Now, here's the thing. I heart snow, I really do, and one of the things I found most consoling about moving to Michigan was the prospect of living in a winter wonderland. You know--no friends, no boyfriend, no tacos, but at least I would have nice snowy romps with my dog. But now that it appears that winter here starts in the fall (and lasts right on through spring), I find I'm just not ready. I'm really not. I do find it hard to believe that it actually will snow on Monday, given that the forecasted low is 38, but it will be here soon, so to prepare myself with cheerfulness, I announce: A Contest.
WHEN WILL THE FIRST SNOWFALL BE?
To enter, leave your guess in the comments by Oct 25. Winner will receive nice yarny prizes, (if they are a yarny friend) or something nice and not yarny (if they are a not-yarny friend). The first snowfall, by the way, is to be construed as the first snowfall that is actually seen by me, i.e. the first time I personally witness snow falling, or the first time there is indisputable visual evidence that snow has fallen overnight.
Whenever it is, I hope I have Hourglass done by then.
There's actually less of it now than there is in that picture, since I frogged back to add more decrease rounds--it was just too big. It's also a darker orange than it appears in the picture. It's Rowanspun Aran in Autumn: burnt orange with nice tweedy flecks.
And for those keeping track?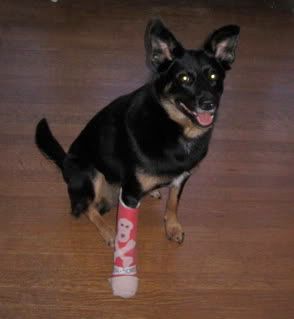 "ARRRR! I'm a scary pirate now, mateys!"
amandamonkey
noted that Bailey seems to be bearing up cheerfully despite the injury. It's the drugs, people, the drugs. And the fact that she is a total ham for the camera, which might be due to the fact that she usually gets a biscuit for posing.
Finally, speaking of amandamonkey and contests, check out
"What Would You Do For Your Knits?"
. Would
you
fish your mitten out of a toilet? I sure as hell would not, and that is why I will not win Amanda's contest.