Two good things, and one bad thing
Good Thing #1: A while ago I donated a basket to the
Give a Little
prize pool, and sent it off to Sara in Oregon, who appears, sadly, to be blogless. When I got home from work today there was a wee envelope in my mailbox, and I thought to myself "oh, a thank-you note. How nice!" And indeed it was, but Sara also included these gorgeous stitch markers, which literally made me catch my breath they're so pretty.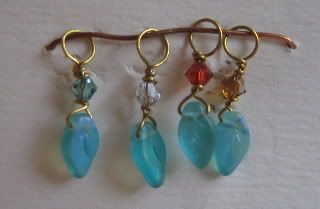 Thank you Sara! These are going to be right up there with my hands-down favorite stitch markers, which I got in trade from
Gaile
. (Gaile sells hers on
Etsy
--go see!)
Good Thing #2: There are three yarn shops in my relatively immediate area--one is right in my neighborhood, and the other two are each about 15 minutes away, in opposite directions. I've been to the neighborhood one, and one of the far away ones, and decided, because it is grey and crappy, that I should stop at the third one on my way home from school, you know, just to see. And pet. (There was a funny sign on the loom in the store that said "Student work in progress! Please do not pet!" Becuase they know how we are.) Of course I meandered over to the sale bin right away, stuck my hand in, encountered extreme softness, and pulled out this: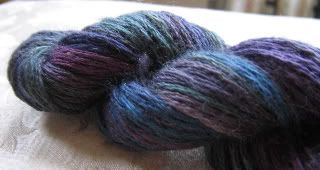 Mountain Colors 100% Superfine Cashmere. For 30 percent off! When is cashmere 30 percent off? So I bought it. There's only 96 yards, but I think that should be enough to do some little fingerless gloves with, or maybe a tiny kerchief a la Last Minute Knitted Gifts. Or I might never knit it at all, and instead just pet it and pet it. I heart you cashmere!
Bad Thing: Bailey has to have a THIRD surgery! Her little pad is cut right in half, and it just won't heal--so on Thursday they are going to put her under and stitch it up AGAIN and then put her in some kind of compression mitt that hopefully will keep her foot immobile. Sigh. But in the meantime, she is sporting a new stylish wrap over her cast: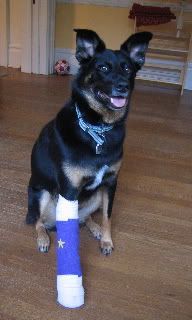 Purple and stars is ever so much better than neon pink and hearts, if you ask me.