In which my dog is treated like a piece of knitting.
At the vet's office on Saturday morning:
Vet: So, her paw is looking much much better--the incision is starting to heal really well.
Me: Wow, that's great. Why do you think the stitches took this time? Luck? Time?
Vet: Well, we used a different type of stitch to hold the pad closed this time. It's called mattress suturing? It holds things together really tightly, and tucks the edges of the cut under.
Me: Oh, mattress stitch. I was just doing that last night.
Vet: ???
Go figure. I actually feel reassured by this, since if I am ever in a situation where somebody needs emergency stitches, and I am the only person around, I can just mattress-stitch them up and call it a day. Knitters: good to have around in a crisis.
Also at the vet's office on Saturday, Bailey got some seasonal decorations: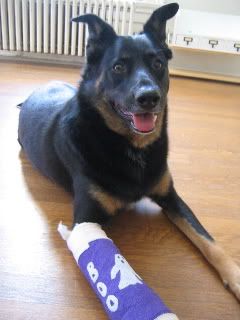 And this is why I love my vet: When the techs brought Bailey out, she was like, "a spooky boo monster! you made her a spooky boo monster!"
Not at the vet's office, but also on Saturday, I finished the Rogue.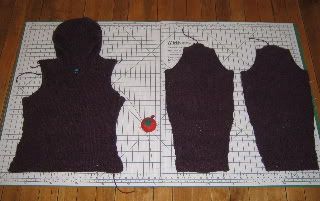 At least the knitting part. But in a few days I will be able to sew it up (with mattress stitch!) and send it off, after which there will be proper photos. Wasn't I so totally secretive about my secret gift project? Luckily, the recipient is not a computer-y person.