A very knitful weekend
I am newly obsessed with Noro. I resisted for so long--like I don't have enough yarn obsessions?--but then my mom picked out the Kureyon, and what could I do? I had her scarf almost finished Friday night, but realized that I wanted it a bit longer than it was going to be with only 3 skeins, so I decided to take a trip to the yarn store for another skein on Saturday morning. Then (because you need to know all about my Friday night) I watched a fascinating documentary on WWII carrier pigeons on Animal Planet, which was completely enrossing, except for when the narrator would refer to The Pigeons of War, which made me giggle and not take the whole thing as seriously as I could have. Anyhoo, as I was watching The Pigeons of War, I realized that I would have a lot of yarn left over from a fourth skein so I decided to make my mom some matching handwarmers to go with her scarf. And so I did!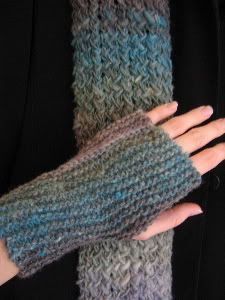 These are Ann Budd's fingerless mitts from Weekend Knitting. To make sure that I would have enough yarn for them, I knitted them first, and then finished the scarf (which ended up being the perfect length) with the fourth skein.
All well and good. But by then I was obsessed with Noro, and a little jealous of my mom's handwarmers. So, like any normal person, I went back to the yarn store and emerged with a skein of Silk Garden. Voila, the Hand/Wrist Warmers from Last Minute Knitted Gifts: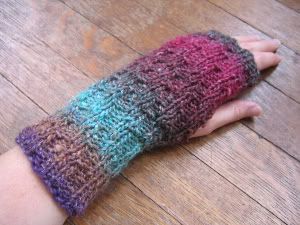 So soft and warm and shiny. I actually need these desperately because my office is not unlike the arctic tundra--yet I need to type and write there. Fingerless gloves to the rescue!
What I found fascinating about the Silk Garden is that, unlike the Kureyon, there were no color repeats at all.

The skein started and ended with purple, so apparently each skein is roughly one repeat long. I kind of dig it, although if you had asked me beforehand I'd have said that I wouldn't.
Specs

Kureyon Scarf and Mitts
Pattern:
Stacey's
My So-Called Scarf
and Ann Budd's Fingerless Mitts from Weekend Knitting.
Yarn:
Noro Kureyon, Color 150, pretty much every last scrap of 4 skeins.
Needles:
Random plastic 11s (scarf) and beautiful ebony Lantern Moon 9s (mitts).
Mods:
None for scarf; mitts lengthened from 28 to 35 stitches.
Started:
Wednesday, November 9
Finished:
Saturday, November 12
Silk Garden MittsPattern:
Hand/Wrist Warmers from Last-Minute Knitted Gifts by Jolle Hoverson (women's version).
Yarn:
Noro Silk Garden, Color 82, 1 skein.
Needles:
Bamboo Size 8 DPNs.
Mods:
Knit upside down. I used the cast-on edge as the top, knit the first 32 rows, divided for thumb, then kept going in pattern until I had used up all the yarn. The equivalent of knitting a sock toe-up instead of top-down, really.
Notes:
Don't forget to check
errata
.
Started:
Saturday, November 12
Finished:
Saturday, November 12