Knits in action
Remember how I said that I would get some better shots of Rogue over Thanksgiving, since my FO pics were so crappy? Well, I did my best. I said to my sister Courtney, aka Courker, "I need you to model your sweater so that I can take good pictures of all the cables." Here's the first attempt: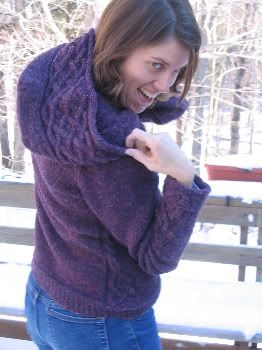 "No, no," I said, "be
normal
. This is for the Internets." Silly me. I forgot the Cardinal Rule of Courkerdom: Never be normal.
That's the best I could do. At least the color is fairly true in these.
Later, all the knits got in on the action.
Rogue helped Courker clean us all out at poker, even though she had to use sugar packets as chips.
Hourglass got its groove on in a heated Dance Dance Revolution competition with my brother-in-law while we waited in line for Harry Potter and the Goblet of Fire. (Tip: Don't play DDR in an overcrowded theater lobby while wearing a wool sweater and Uggs, especially if you are prone to overheating.)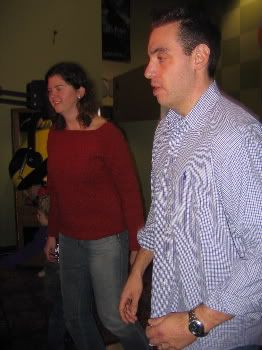 And many, many assorted knits showed up for the traditional family Christmas picture.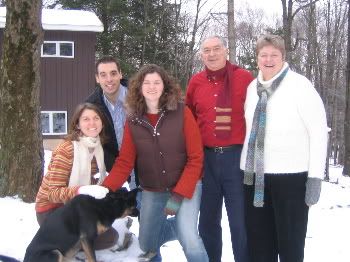 Five people, six knits (and an uncooperative dog). Not half bad.