Dammit
I had a long and witty post about where I'd been (Pennsylvania) and why I hadn't been blogging (dial-up. Hate you dial-up! Hate you so much!) and then Blogger ate it. Hate you Blogger!
Here's what was important:
The Hawk Will Never Die, last seen with
one sleeve left to go
, was completed, with much ripping and reknitting of the above-the-armpits stuff, on the 23rd--two whole days before Christmas!
Unfortunately, I'm not super excited about the finished product. I really wish I had used a worsted-weight yarn, rather than a bulky, not least because when I was doing the raglan decreases, I ended up having to K3 (or SSSK, depending) to get the appropriate combination of length and width, and it looks lumpy: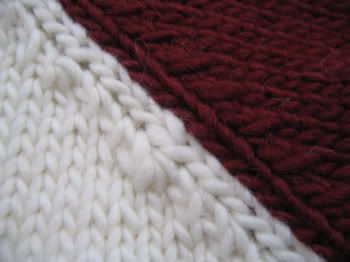 Blech. Problem two, it's hella hot. Nevertheless, the Pinto Bean (my BIL) seemed really excited about it, and put it on right away, as did my sister with my much-coveted hat and scarf set. Aren't they cute?
Sadly, this is not yet quite an FO, since it binds a little in the pits--I'm going to rip the top back again and do some adjusting--but it's near enough for an FO Roundup.
The Hawk Will Never Die
Pattern: My own. (although next time? Just get a freakin' pattern.)
Yarn: Lambs Pride Bulky; 4 skeins Medieval Red, 5 skeins Creme
Needles: 10.5: Brittany DPNs for sleeves and collar; random plastic circs for body
Started: December 6, 2005
Finished: December 23, 2005