Holiday Knitting
What else did I knit over break?
A majority of my knitting time was spent on my Dad's
Secret Gift Vest
--he asked for it to be made about two inches longer, so I ripped back to the armholes and added in a repeat and a half of the cable pattern. Et voila: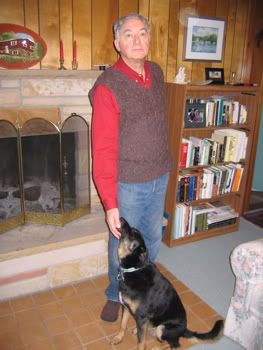 (My dad: "Are you going to put that on the
internet
?"
Bailey: "Iloveyouiloveyoupleasepayattentiontomeeeeeeeeeeeeeeeeeeee!")
It was a pain to redo, but he wore it like 8 times after I finished it, so I'm glad I put the work in. I also renewed my obsessive love of Jo Sharp Silkroad Aran Tweed--I must make myself something out of it.
I also knit but did not photograph a final minisweater, with a
Texas Longhorn
on it (although it kind of maybe looked more like a reindeer) and, as very last-minute Christmas gift, a pair of LMKG armwarmers in the leftover Rio de la Plata from my sister's hat.
Then I spent many hours on these:
Which are really these: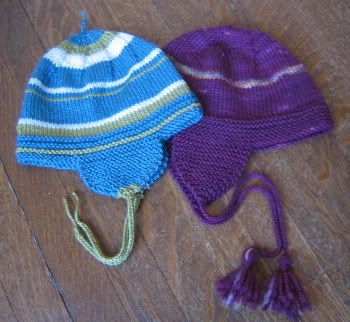 I just liked that closeup. Both of these hats were attempts to knit myself something that I loved as much as my sister's hat. I totally failed. The striped one--cute, but not for me. Plus it doesn't fit; I think I might send it to Dulaan or something. It's knit, incidentally, out of some totally sketchy Debbie Bliss Cashmerino knockoff I picked up at my parents' local craft store, AC Moore:
We don't have AC Moore here, but I wish we did, because I would Live the Fantasy ALL THE TIME. OMG so soft. I like calling acrylic microfiber, don't you? It makes it sound so much classier.
The maroon hat I actually have been wearing quite a bit, but I've decided it needs a makeover. First of all, it's a bit airy: it's Lorna's Shepherd Worsted (in Manzanita) which I love love love--so soft and cuddly--but I knit it on 7s, and I think it really wants to be on 6s or maybe even 5s. And second, the teeny tiny stripe in it is the last scraps of the Manos from my sister's hat and scarf and I want MORE.
So I got more.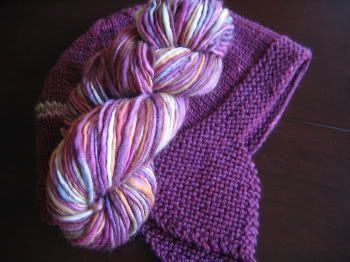 Bwahahahaha. Soon my hat too will be insanely cute.