The bullet I thought I could dodge.
Dear Lorna's Laces Shepherd Sport, Colorway Black Pearl,
I thought we could work things out. I swatched with you so dilligently, trying to find a pattern that would make us both happy: I'd get your pretty colors and insane softness, you'd get to display those colors in stripes, rather than big, ugly pools that would make me hate you and wish you'd never been born. And for a time, I thought we'd figured it out. You, me, the size two needles, the tuck-and-rib pattern from the Vogue Knitting Stitchionary--we had chemistry. It was beautiful.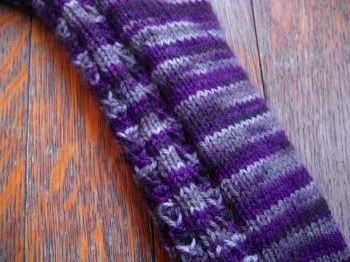 But then. Oh, then. I had to go and switch things up. I was just looking for a little variety, a little novelty in our relationship. I mean, I know we'd only been together for a couple of days at that point, but it was time to try something new and exciting, something that would help us move forward together even faster. It was time for size three needles.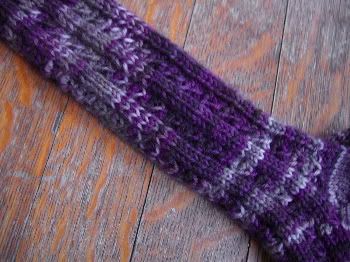 Why? Did it really make that much of a difference to you? It was such a small change, such a little thing. And yet it totally changed our relationship. It was, as they say, a rough patch. Frankly, I wasn't sure we were going to make it. But we'd come that far together, and I guess I thought I owed it to both of us to keep going. After all, relationships are about compromise, right?
I've gotta say, though, I'm glad you came back to your senses when I threw in some calf increases.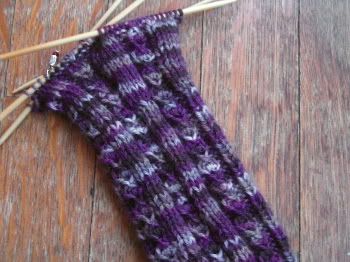 Because really, there's only so much I can give.
Love,
Ashley
******************
Dear knitting socks with sport-weight wool as opposed to fingering,
I love you. Will you marry me?
Love, Ashley
******************
Dear Bailey,
I'm not at all sorry that I put my super extra long sock on your snoot to try to make you look like an elephant for my blog.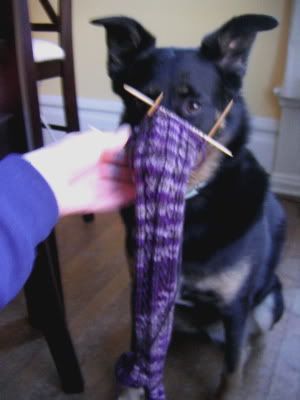 I'm only sorry that you couldn't hold still for one goddamn second while I took a picture.
But if you could please not eat me in my sleep, I'd appreciate it.
Love,
Ashley