Sockapaloooza Crisis
To refresh.
First we had this:
Yay! So pretty! So colorful! I have nothing but love for this yarn!
Then we had this: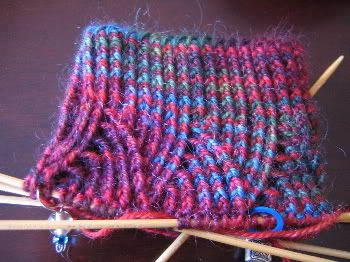 Pretty pattern, but ow--impossible with the sproing-less yarn. Also, it was pooling ickily, which, as we know, I hate.
Then, we had this: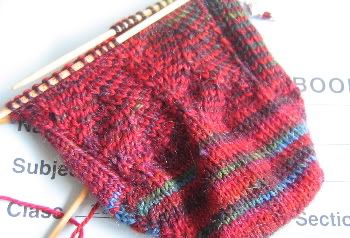 Which grew and grew, until I had turned the heel and was a full pattern repeat up the leg, until suddenly, on Thursday night, my hate for its pooling (one side red and purple, the other side blue and green) caused the white-hot heat of a thousand suns to blaze forth from my eyes and incinerate it. Or I ripped it out, whichever.
Now we have this:
and hi, guess what? I HATE IT. I fixed the pooling problem, but I think I just hate all the colors mashed up together. Hate, hate, hate. But here's the thing; these socks aren't for me. They're for a pal who specified bright, unique colors (and a short leg, thank heavens), and who maybe won't hate them, but rather love them and think that they are beautiful. But I don't know, because if somebody made these socks for me, I would be very, very sad. So I put it to all of you: