Promising
Look what I saw when I got up this morning: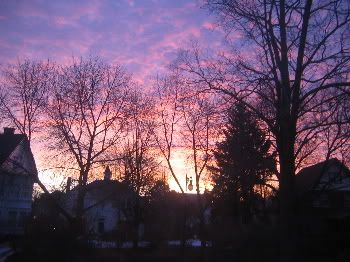 Rosy-fingered dawn! Do you know how long it's been since I woke up to natural light? [ETA, per Amanda's and Cordelia's comments, that I do not get up particularly early at all (by objective standards. By my own standards, anything before 9 is early). This sunrise was approx 7:15 this morning.]
So that's exciting. Also exciting?
The Amazing Race
is back! And I do mean BACK--no stupid families, excellent challenges, and HELICOPTERS. And the nerdiest little couple with whom I am totally in love. Happy happy happy. Plus, the season premire was 2 hours long, so that meant lots of knitting time.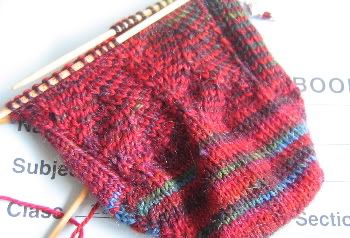 Pomatomus? Frogged.
Wyvern
? Well underway. Thanks for the suggestion,
Olga
! I have to say, I don't like the pattern itself nearly as much as Pomatomus--I miss the pop of the twisted sitches--but it is not crippling my hands, which makes it a winner in my book. And as Olga wisely observed, fish? Dragons? Both scaly.
(Note that the Wyvern reposes on a stack of blue books. Which remained ungraded while I watched TAR and knitted. Priorities, mes amis, priorities.)