bleurgh
Will it never end?
No wonder my knitting's been so drab lately.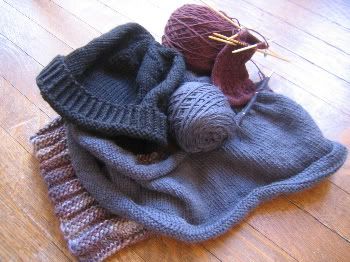 Clockwise from bottom left:
1) The neck hug, worn daily since its completion.
2) Black watch cap, which exists as of this morning. Literally every single day this winter I have been irritated that I did not have a warm black hat, and literally every morning, my id and my superego would have the following conversation: "Dammit! I wish I had a black hat. I should just go buy one. No! You are not allowed to buy accessories when you have yarn for 1000000 hats in stash. But I don't have any blaaaaaaaaaaaack yarn. YES YOU DO. But it's not soooooooooooooooft enough. Dammit!" And then I would put on my crappy white hat from Target that doesn't fit and go about my day. Yesterday, I finally got fed up, parted with some of the Christmas gift certificate and picked up some more of that wildly overpriced but sinfully, insanely, addictively soft Rio de la Plata at the LYS. And voila, black hat. No pattern; I just, you know, knit a hat. With decreases and stuff.
3) A second pair of the Almost-Knee socks, in Lorna's semi-solid Chocolate. This is so I can take notes and write down the recipe to share. Also so that I can have a second pair.
And 4) The body of Hourglass, Part Deux, which has only been a sleeve since
last you saw it
.
So, individually, all things that I like a lot. But all together? What a pile of blah.
At least one of us has some color in her life: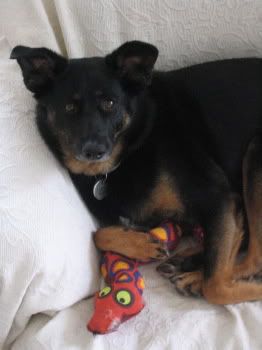 Snake lifespan: three days and counting. Running a close second to
Purple Squeaky Man
in the Length of Time Before Eviscerated category.